English for Children
Learning is not a one size fits all. We will help you in finding the right classes for your child.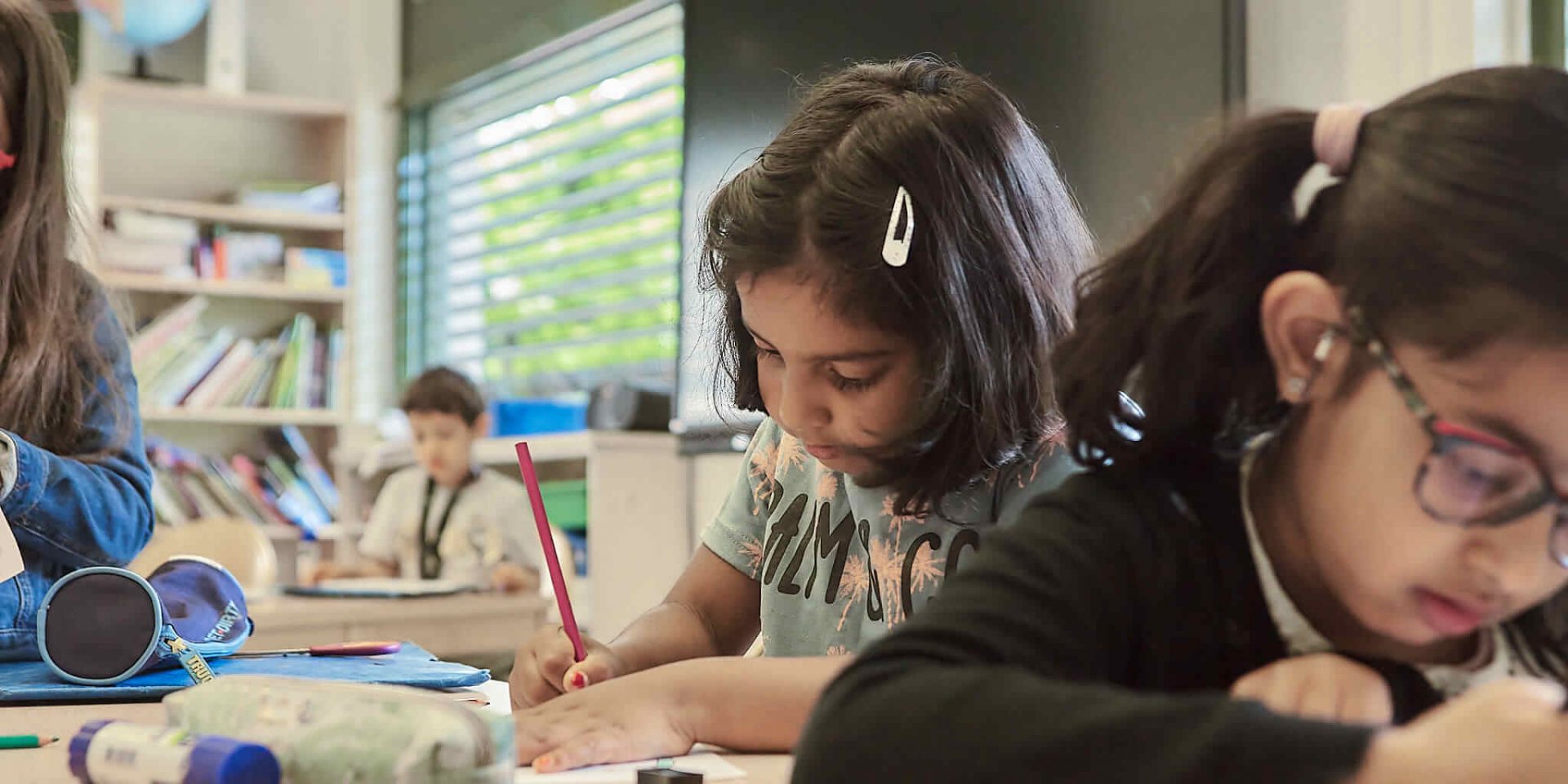 Nursery – Early Years Foundation Stage
All our nursery school classes follow the Early Years Foundation Stage Framework – a UK national curriculum standard. All learning is underpinned by seven areas of learning and development, which complement the Bell Way principles, are split into three prime and four specific areas.
Activities are set through planned, purposeful play and that vital mix of adult-led and child-initiated play. The three prime areas are time-sensitive in the development of the child as they cover crucial goals to be achieved by the 5th birthday that will set its learning path for the coming years. Our teaching will have a focus on the prime areas although not exclusively as none of the areas are developed in isolation.
Primary School – Key Stage 1 level
Our Primary classes prepare pupils to continue their English language learning journey and for the opportunities, responsibilities and experiences of later life. Children turning 4 years old before 31 July must attend Primary School from the beginning of the next school year. Our Primary courses support students through this important transition. For children who do not use English at home and are 3 years and over, we offer additional classes on Wednesdays.
Young Learners' programmesOur Young Learners' classes (YL) promote development in literacy even from the first Foundation Stage class. They also provide support to develop the children's creativity and potential at their own pace.
The course format caters for different learning styles and make learning and developing their English skills an interesting and enjoyable experience. It contributes to the development of the children's intellectual, social and motor skills and their emotional growth. Children learn best if the content is conveyed in an interesting and motivating way, and learning is linked with concrete action, movement, gesture or mime. Students are given the chance to get involved in doing games, songs, chants, role-plays, puzzles & quizzes, creative writing projects and craft activities for some younger classes.
We are also raising the interest of children in different cultures and ways of life and establishing open and positive attitudes towards other peoples and countries. These extra-curricular classes on Wednesdays or Saturdays, provide numerous meaningful possibilities for young learners to revise and recycle newly acquired vocabulary or knowledge.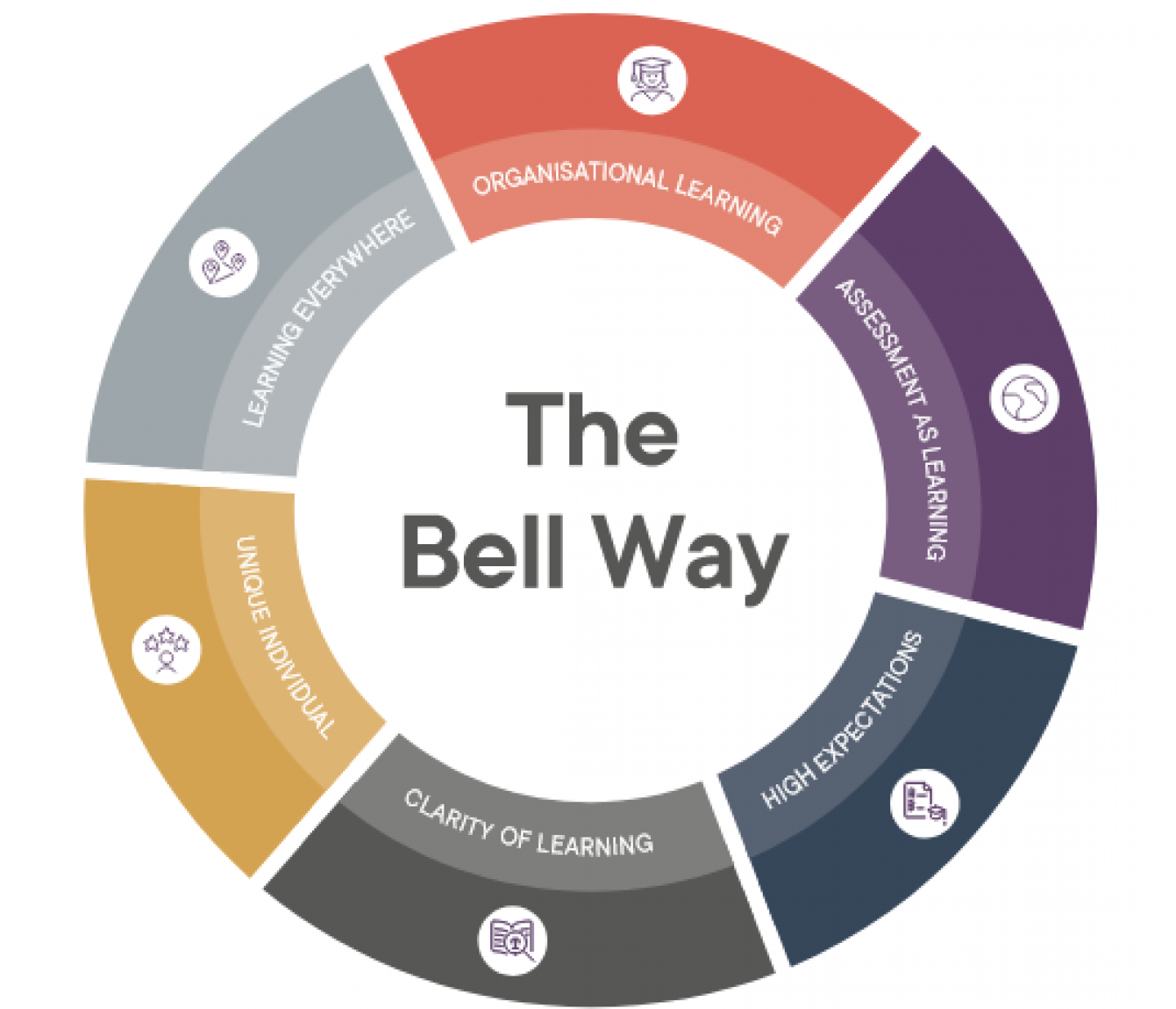 learning the bell way
Our approach
Our unique learning approach – The Bell Way – is core to everything we do at Bell. It was developed by our academic team alongside an Emeritus Professor from the University of Cambridge. It is based on six core principles that shape all our programmes.
The combination of your hard work, regular practice and commitment to lessons – and our 65 years of teaching expertise – is guaranteed to see you aim high, exceed your expectations and become a confident user of the language.
Located just a few minutes walk from the United Nations, Bell at Colombettes has been home to our teaching in Geneva for over 25 years. We teach nursery, young learners and professionals at this location.
Why choose Bell?
Here are just a few reasons why we think Bell is the right school for you.
Track record of success

As a leading language school and education provider, Bell has a successful track record in delivering unforgettable learning experiences to students across the globe since 1955, when its first school was established in the famous academic city of Cambridge.

For over 25 years, we have combined this international expertise with our knowledge and experience to Geneva, developing a strong reputation in delivering expertly-designed programmes underpinned by The Bell Way for students of all ages.

Ideal location

Bell Colombettes is located at the heart of the international district, home to the Palais des Nations complex of UN offices in Parc de l'Ariana and World Trade Organisation.

For you, that means convenient car drop-off points and easy transport links – by train, tram and bus – making the nursery an ideal location for parents who live, work or commute to the Right Bank (Rive Droite) – including Servette and Petit-Saconnex, Paquis and Nations, Saint-Jean, Charmilles and Grottes and Saint-Gervais districts.

Learning the Bell Way

Each student's learning is guided by the 6 principles of The Bell Way. A learning approach model that we developed alongside an Emeritus Professor from the University of Cambridge.

The Bell Way is core to everything we do at Bell, enhancing student's progress and suc,cess in achieving their goals.

Teaching expertise

All our teachers are highly qualified and experienced, meaning that you can expect the highest standard of education and professionalism to guide you in your language course with Bell.

We are also dedicated to continually innovating and improving how we teach. All our teachers are encouraged to innovate their teaching practice and methodologies through classroom research, and as a result, some of our teachers have become published authors and are invited to speak at international, industry-leading education events – including the high-profile IATEFL in UK.

Outstanding student care

We offer a high standard of support and care for all our students. With a student:staff ratio of 1:8 (1:6 for bilingual nursery), we are proud to offer comprehensive guidance and support to all participants in our classes – from the beginning until the end:

Dedicated teachers and teaching assistants are available at all times
Trained first aid staff members throughout the school
Safeguarding and criminal record checks on all staff

Group specialist

We have a successful track record of taking the bespoke needs of our clients to coordinate or design and deliver courses that exceed their expectations. We deliver measurable outcomes and a memorable experience for all our adult groups.
HOW TO APPLY
Let us help you achieve your learning goals
We are here to help you find the right course for you.
If you have found the right course, you can contact us to make it happen.